Posted: April 30, 2018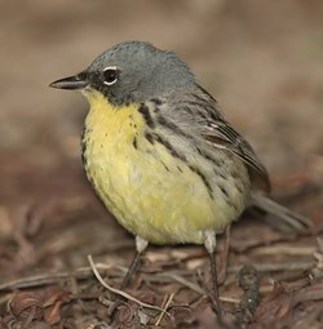 The Kirtland's warbler, a federally endangered species, is a small blue/grey and yellow bird that is protected under the Endangered Species Act. It is known to use scrub/shrub and forested habitat to forage and roost. This species is typically found along the Lake Erie shoreline during its' spring and fall migration; however, it does not nest in Ohio.
Kirtland's warbler: Proposed for Delisting
After years of conservation efforts, U.S. Fish and Wildlife Service (USFWS) recently proposed a rule to remove the Kirtland's warbler from the Endangered Species Act. This is due to the species' recovery, and the USFWS cites that "the Kirtland's warbler population is now estimated to be over 2,300 pairs – more than double the recovery numerical goal." However, this species is heavily reliant on continued conservation efforts, specifically habitat management to ensure new growth of jack pines (the only tree the birds nest in) and cowbird control to reduce nest parasitism. Both efforts are conducted on an annual basis and are essential to the continued recovery of the population. It is likely that provisions to fund the continued conservation efforts must be in place before delisting the bird from the Endangered Species Act.
The proposed rule to delist the Kirtland's warbler was published in the Federal Register on April 12, 2018, which opens a 90-day public comment period. The decision of whether to remove the bird from the Endangered Species Act will be decided within a year from the date the proposed rule was published. We will continue to keep you informed of the USFWS's determination on this rule.
Woody Vegetation Clearing Restrictions
Even though the Kirtland's warbler is proposed to be delisted, all the rules and regulations protecting it are still in effect. If your project has federal funding or must comply with a federal permit, and you are near the Lake Erie shoreline, you may still need to comply with the woody vegetation clearing restrictions for this brd. The restrictions state that the clearing and removal of scrub/shrub or forested habitat shall not occur between April 22 to June 1 and August 15 to October 15.
We can assist you with any concerns about federally listed species on your property and provide guidance and assistance for your permitting needs.
Photo: Bmajoros via Wikimedia Commons