Posted: November 11, 2019
The Partners in Community Forestry Conference is known as the largest international meeting spot for urban forestry practitioners, advocates, researchers, and government leaders. This year, the conference is taking place in the backyard of Davey's headquarters: Cleveland, Ohio.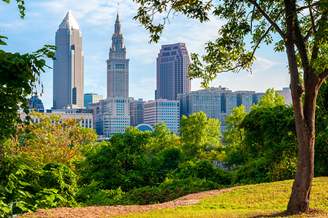 On November 20-21, attendees will learn about the latest research findings, best practices for your trees and organization, current community forestry trends, and more. Those in attendance can also earn continuing education credits and participate in networking opportunities.
Davey is proud to be a platinum sponsor of this high calibur event. Stop by the Davey booth for a demo of TreeKeeper, the tree inventory software developed by DRG, or talk to our experts about Urban Forestry Master Plans.
Along with exhibiting, DRG will have several team members speaking at the event, including:
Wednesday, November 20
Joe Gregory
8:30-10:10 a.m.
The Cleveland Tree Plan: A Case Study in Capacity-Building
Thursday, November 21
Mike Binkley and Manny Ong
7:15-8:15 a.m.
Listening Session: New i-Tree Features You Might Need


Frank Monteleone
8:30-10:00 a.m.
Tree Campus Healthcare: Engaging Healthcare Facilities in Community Forestry


Mike Binkley
10:30-11:05 a.m.
i-Tree Software Update


Jennifer Lennox
11:15-11:50 a.m.
Trees for Threes: A Growing Partnership


Kerry Gray
1:00-1:35 p.m.
We Have a Street Tree Inventory... Now What?


Dave Gamstetter
1:45-2:20 p.m.
Our Management Plan is Out of Date! How Can We Modernize It in a Cost-Effective Way?


Shirley Vaughn and Jim Jenkins
1:45-2:20 p.m.
Don't Fear the Woodlot