Posted: June 11, 2020
All five boroughs of New York City have now been declared free of Asian longhorned beetle (ALB) infestation following a 23-year campaign to eradicate the pest by the U.S. Department of Agriculture (USDA). ALB had been declared eradicated from Manhattan and Staten Island in 2013, Eastern Queens in 2017, and now finally Western Queens and Brooklyn in 2019. The Bronx is the only borough to never have a reported infestation.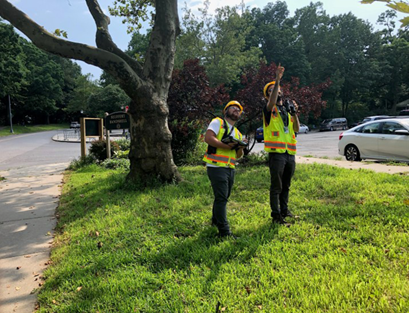 Davey Resource Group (DRG) employees conducted the final ground and climbing surveys in late 2019 as part of efforts by the USDA to confirm quarantine and removal protocols were effective.
"During the time that we conducted surveys we did not find ALB infestation or even one tree with ALB damage," Kateri Savory said. Savory is a project manager for DRG's NYC office.
An average of 20 employees actively worked to visually inspect trees in the city for ALB. Savory also manages the ALB contract with the USDA in Long Island, where there are small, active infestations. Since New York City is ALB-free, the transportation of wood material between Long Island and the city is no longer regulated there.
"One of the big elements that helped on this contract was that the DRG software development team created a more streamlined and automated delivery system for our data to better communicate it to the USDA," Savory said. "The client truly appreciated that."
Justin Stratton, a production manager for the DRG software development team, said the use of Rover and myRowKeeper software for such survey work have allowed for efficient field data capture and ease of data processing and delivery to the client.
"After we started the project, the USDA developed their own master database system to track survey information and requested that DRG build a bridge between our system and theirs," Stratton said. "The DRG software development team built an automated mechanism that posted each day's survey data to a mutually accessible location that the USDA could read and integrate into their system. Suspicious or ALB-positive trees could be identified and investigated very quickly, thanks to this automation."