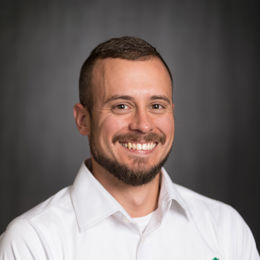 Justin Walters
Software Solutions Manager
Justin Walters joined Davey in 2014 as a geospatial technician and has since been promoted to software solutions manager in Davey's GIS and IT utility solutions division. In his position, Justin is the single point of contact for DRG's software products to meet with clients and stakeholders and define project scope and parameters. Involved in a project from inception to completion and working directly with DRG business developers on the proposal stage, he is responsible for all aspects of the project development, planning, tracking, issue resolution and implementation of assigned software programs to multiple accounts. Justin's problem-solving skills allow him to assess each project and determine how new strategies can be implemented to improve internal processes and procedures and provide value to our clients.
Justin is a member of the Utility Arborists Association, Geospatial Information and Technology Association, Urban and Regional Systems Information Systems Association, and ISA Mid-Atlantic Chapter.
Get In Touch With Us!
We pride ourselves at Davey Tree on providing prompt, professional and personalized service from certified arborists that live, work and engage in your community. Contact one of our Davey Tree specialists for your residential, commercial, utility, or environmental needs.