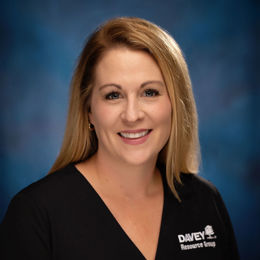 Jodie Braskich
Director, Midwestern Operations
Jodie Braskich joined Davey Resource Group in 2016 as a Midwest business developer after having worked for more than 14 years with utilities across the Midwest region. Her previous experience included UVM program management, program and budget development, sourcing, and community relations. Jodie was promoted to market manager for the Midwest region in 2020. In 2021, Jodie was promoted to director of Midwestern operations. Jodie's commitment to developing her team and her expert listening skills allow her to understand her clients' needs and provide targeted solutions. She is a willing collaborator with her peers in DRG and with other Davey service lines. She has substantial knowledge of FAC-003 compliance and regulations and skills in data analysis and budgetary management.
Braskich holds a bachelor's degree in business management with an emphasis on community development from Central Michigan University. She is an ISA Certified Arborist® and a member of the Utility Arborist Association.
Certifications
Get In Touch With Us!
We pride ourselves at Davey Tree on providing prompt, professional and personalized service from certified arborists that live, work and engage in your community. Contact one of our Davey Tree specialists for your residential, commercial, utility, or environmental needs.