Prestigious award recognizes outstanding contributions in parks and conservation.
Posted: October 05, 2022
A prominent Pennsylvania park and conversation leader, William Mitchell, received the Cornelius Amory Pugsley Medal for Parks and Conservation, September 21, 2022, at the annual award hosted by the American Academy for Park and Recreation Administration in Phoenix, Arizona.
The Honorable Cornelius Amory Pugsley Medals are the most prestigious awards that recognize outstanding contributions to the promotion and development of public parks and conservation in the United States. The inaugural Pugsley Medals were awarded in 1928.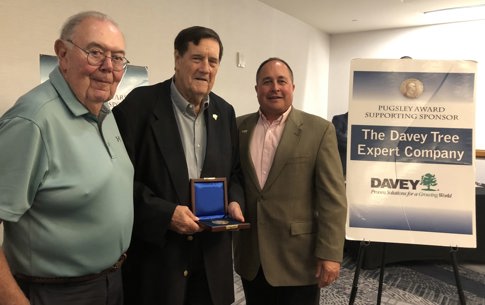 William (Bill) Mitchell began his parks and recreation career as the Aquatics Director at the Prince George County Recreation Department, Maryland. He then moved to the City of Bethlehem, Pennsylvania, as Recreation Administrator. He next served 15 years as Director of Parks and Recreation for Howard County, Maryland. During his tenure at Howard County, Mitchell added extensive open space and developed existing parklands. In 1989 Mitchell became the Executive Director of the Bucks County, Pennsylvania, Department of Parks and Recreation. For over 30 years Mitchell focused on land acquisition, with a focus on protecting land on the banks of the Delaware River and the banks of the Lehigh and Delaware canal preserving the last undistributed coastal plain forest, swamp and unglaciated bog. Additionally, Mitchell preserved historic buildings including the Moravian Pottery and historic Tile Works and a working water mill. Upon his retirement in 2021, Bucks County renamed the department's headquarters building in his honor. Mitchell is also well known as a staunch advocate for parks and recreation in state legislatures and in Congress. He was often called upon by the National Recreation and Park Association to testify before Congressional committees.
In awarding the Pugsley Medal to Mitchell, John Potts, Pugsley Committee Chair stated, "It is an honor to bestow a 2022 Pugsley Medal to a strong administrator and lifelong advocate for parks, open space and conservation. His accomplishments in the agencies where he has worked speaks to his leadership, passion, and dedication to improving the lives of others through access to parks and recreation. The Academy is pleased to bestow this recognition onto him."
Mitchell joins a distinguished list of Pugsley Medal recipients, including Stephen Mather, the founder and first director of the National Park Service; landscape architect Frederick Law Olmsted, Jr.; two former Secretaries of the Interior, Bruce Babbitt and Stuart Udall; and US Senator and former State of Tennessee Governor, Lamar Alexander.
The Pugsley Medal is provided in association with the National Park Foundation, the official philanthropic partner of the National Park Service. The Foundation's mission is to enrich America's over 400 national parks and programs through private support. To learn more visit www.NationalParks.org.
The American Academy for Park and Recreation Administration gratefully acknowledges the supporting sponsorship of The Davey Tree Expert Company. For further information regarding The Davey Tree Expert Company refer to www.davey.com.  
To learn more about the American Academy for Park & Recreation Administration's Pugsley Award, click here.
For further information, contact Jane H. Adams, Executive Director, American Academy for Park & Recreation Administration, info@aapra.org.  
###
About the American Academy for Park & Recreation Administration 
The American Academy for Park & Recreation Administration is a group of 125 distinguished practitioners and educators who are leaders in the field of parks and recreation. Established in 1980 the Academy was formed to advance knowledge related to the administration of parks and recreation; to support and encourage scholarly efforts to enhance the practice of parks and recreation administration and to promote broader public understanding of the importance of parks and recreation to the public good. Additionally, the Academy sponsors a scholarly journal; organizes seminars; and recognizes excellence in park and recreation management in an agency accreditation program and the National Gold Medal Award Program. For more information, visit www.aapra.org.
About The Davey Tree Expert Company
The Davey Tree Expert Company, established in 1880 and headquartered in Kent, Ohio, provides research-driven tree services, grounds maintenance and environmental consulting for residential, utility, commercial and environmental partners in the U.S. and Canada. With 11,000 employees, Davey Tree is the eighth largest employee-owned company in the U.S. Visit www.davey.com to learn more about Davey Tree and discover your next career opportunity.