Posted: October 20, 2022
Kent, Ohio – The Pittsburgh Penguins of the National Hockey League have partnered with The Davey Tree Expert Company for a new community initiative to help restore and protect the urban forest in Pittsburgh. Through the "Score for the Trees" program, the two organizations have agreed to plant one tree in the greater Pittsburgh area for every goal scored by a Penguins player at PPG Paints Arena during the 2022-2023 regular season.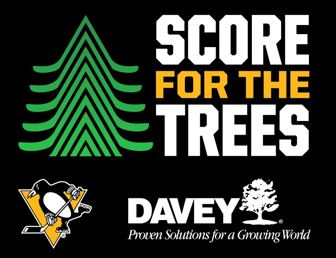 Davey Tree employees and Penguins personnel will be working with Tree Pittsburgh to plant the awarded trees in the greater Pittsburgh area. Tree planting dates and locations will be announced in 2023.
Sandra Reid, vice president of corporate communications and strategic planning at Davey Tree, said the company is excited for this new partnership with the Penguins because it will make Pittsburgh a greener place. "We've worked in the Pittsburgh area for almost 100 years now, and we're thrilled to partner with the Penguins and Tree Pittsburgh. Like us, they're both organizations that have a commitment to the community, and we're excited to work with them to expand and reestablish Pittsburgh's urban forest. We look forward to rooting on the Penguins to score more goals!"
"We couldn't be more excited to partner with the Pittsburgh Penguins and Davey Tree to plant trees where they are needed the most," said Tree Pittsburgh Executive Director Danielle Crumrine. "Trees positively impact human health, add beauty to the landscape, and they help to cut cooling costs during the hot summer months. These impacts will only increase as the trees grow."