Posted: April 18, 2023
Kent, Ohio – The Davey Tree Expert Company is pleased to announce the addition of Mickman Brothers, Inc. of Ham Lake, Minn., to its family of brands.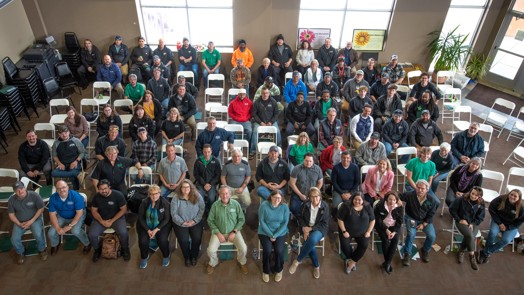 Founded in 1975 by brothers Chris and John Mickman, Mickman Brothers provides landscape, irrigation, landscape maintenance and snow removal services to the Greater Minneapolis-St. Paul area. Mickman Brothers also offers a premier garden center for their local clientele at which they grow most of the Annuals and Perennials they offer. Their family Mickman Christmas business, originated by John and Chris's grandmother, has a national customer base of non-profit organizations and corporate clients. Mickman Brothers' dedicated team of approximately 80 year-round employees is enhanced by roughly 200 seasonal employees. All services will continue as part of the Mickman Brothers team within Davey's Commercial Landscape Services (CLS) service line. 
"Davey has been the leader in the green industry for almost 150 years, so its knowledge of the industry and breadth of services will help propel Mickman Brothers to the highest levels of service to our clients," said John Mickman, CEO. "We are all thrilled with the career growth opportunities this merger will offer to our professional staff of dedicated employees. The Mickman Brothers team is thrilled about joining forces with our new Davey team members as we continue to grow our product and service offerings locally and nationally."   
Mark Svozil, vice president and general manager, CLS at Davey, said, "One of the strongest attributes we admire about Mickman Brothers, in addition to its amazing corporate culture, is its passion for supplying the highest quality products and services to its clients, a key value shared by Davey. Prior to this merger, Davey had already made a strong commitment to the Minneapolis-St. Paul market, making this the fifth location for Davey. Adding a brand the caliber of Mickman Brothers highlights Davey's ongoing commitment to the region and should be great not only for Mickman Brothers' clients but Davey's as well. I am so excited to watch Mickman's employees grow in their careers through promotions and educational opportunities, as well become employee owners of Davey."