Posted: November 09, 2023
Davey Resource Group, Inc. (DRG), a subsidiary of The Davey Tree Expert Company and a leading US provider of urban forestry and environmental consulting services, and Treeconomics, a UK-based organization specializing in urban forest management, are excited to announce a new strategic partnership that brings together two organizations with a shared commitment to the preservation and enhancement of urban green spaces and treescapes.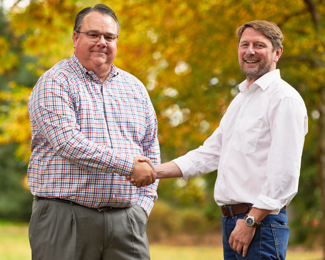 Founded in 1880 by John Davey, a horticulturist hailing from the South West of England, Davey Tree has a rich heritage in urban forestry management and ecological conservation. John Davey's horticultural roots provide a unique connection to Treeconomics, whose team is also based in the same region.
Treeconomics and DRG have had a close connection since 2010, when Treeconomics undertook the UK's first urban forest benefits assessment in Torbay. Their shared commitment to sustainable urban forest management and the application of innovative technology, such as i-Tree, has strengthened their bond over the years.
Brent Repenning, Davey's executive vice president, U.S. Utility operations and DRG, expressed his enthusiasm about this new chapter. "Through this partnership, we'll be able to collaborate on sustainable solutions for Treeconomics' clients, with an added bonus of having the opportunity to serve the country where our founder was born and raised."
Kenton Rogers, Treeconomics' co-founder, added, "I'm really excited about this partnership. Ever since our first visit to Davey in 2010, the synergy between our organizations was clear. Together we can have a profound impact on the sustainability and well-being of urban treescapes in the UK, and we are really looking forward the journey ahead."
This partnership comes at a crucial time when urban forests play a pivotal role in enhancing air quality, reducing the urban heat island effect and providing essential green spaces for communities. DRG and Treeconomics are committed to working together to meet these environmental challenges head-on.
This partnership is the first time Davey has made an investment in a European company.
For more information about DRG and Treeconomics, please visit their respective websites: www.Davey.com and www.treeconomics.co.uk