Posted: September 23, 2021
Seven years after the closing of Franklin Elementary School, the Kent City Schools Board of Education announced last spring that it had reached an agreement for a mutually beneficial exchange with The Davey Tree Expert Company. The closing for this exchange is scheduled for Wednesday, September 22, 2021. 
In return for the 8-acre site and building, the school district will receive a key piece of property adjacent to Stanton Middle School. This 1.75-acre parcel fronts on Hudson Road north of Stanton and includes an existing access drive off Hudson Road north of the middle school. The acquisition will allow the district to construct a new road on the northeast side of the school building to connect to this access drive, which will be used for bus drop offs and pickups.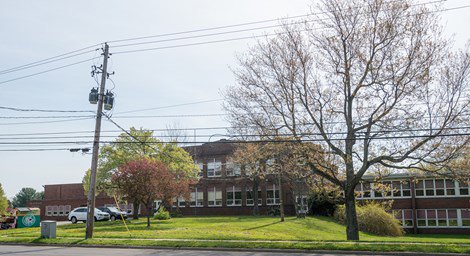 According to Superintendent George Joseph, the acquisition is the final piece needed to complete the secondary campus safety plan, part of the district's most recent strategic plan developed with community input.
As part of the exchange, the district will receive $456,000 from Davey Tree in recognition of the respective appraised values of the exchanged properties. In addition, Davey Tree will permit parking in its expanded lot for multiple evening events at Roosevelt Stadium.
Joseph said, "I'm excited about the opportunity to partner with The Davey Tree Expert Company in a property exchange, which will enhance the safety of our students, visitors and vehicles on the Kent City Schools secondary campus. The new property and proceeds will allow us to construct a connecting access drive behind Stanton for bus traffic. This plan will ensure a safer drop off and pick up area for students."
Sandra Reid, vice president of corporate communications and strategic planning administration at Davey Tree, agreed that the exchange has been beneficial for both parties. "We are pleased that the due diligence period has concluded, and we have formally closed on the property," said Reid.
"Our plans for the site are the same as stated earlier in the year," she continued. "We will extend our science and learning center by linking our East Campus with the John Davey Arboretum. We are grateful to work with our good partners at the Kent City School District as we continue finalizing this project."
The Davey Tree Expert Company provides research-driven tree services, grounds maintenance and environmental consulting for residential, utility, commercial and environmental partners in the U.S. and Canada. Established in 1880 and headquartered in Kent, Ohio, Davey Tree is in the top 10 largest employee-owned companies in the U.S. and has more than 10,000 employees who are driven to create and deliver sustainable solutions. Discover your Davey career and apply today.