Posted: November 15, 2021
In this Bay Weekly article, Lou Meyer, business developer for Davey's mid-Atlantic region, talks about how fall color was affected this year, and how to keep your trees healthy as winter approaches.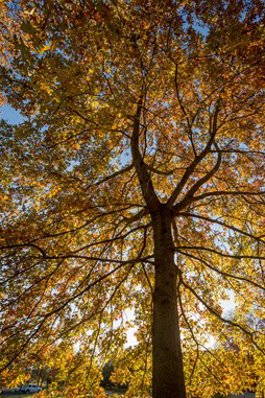 After a summer of temperatures well above normal and one of our warmest Octobers since the 1940s, we have finally found ourselves in the thick of autumn, and the high point of changing leaf colors.
Despite some recent storms and whipping winds, fall foliage is now at its peak along the Bay, according to the weekly report from Maryland Department of Natural Resources (DNR).
"The fall foliage this year has been a moving target," the report states. "And we find ourselves entering November with some lackluster conditions. We are generally seeing a pattern from western Garrett County in the past peak stage to lots of green with pockets of color in far eastern Maryland. With the recent wind and rain, we're seeing an end to prime foliage colors in most of the state mainly because of leaf drop."
Summer's scorch has left a lasting mark on the season's red, yellow, and orange leaves, says Lou Meyer, a certified arborist with Davey Tree in Annapolis. Meyer notes "at-peak means most trees have little green left and the leaves have started to change, but the colors may not be as vibrant as years past."
To continue reading about fall color and how to keep your trees healthy, click here.