Posted: October 18, 2023
As part of the Penguins Pledge, and in partnership with the National Aviary, Aviary experts and some of their live penguin ambassadors will visit PPG Paints Arena for 10 games during the 2023-24 season. Their first visit is tonight on African Penguin Awareness Day, which is observed annually to raise awareness about the Endangered African Penguin species.
Below is the list of games the African Penguins from the National Aviary will be at PPG Paints Arena:
Saturday, October 14 vs. Calgary at 7:00 PM
Saturday, October 28 vs. Ottawa at 7:00 PM
Saturday, November 11 vs. Buffalo at 7:00 PM
Thursday, December 21 vs. Carolina at 7:00 PM
Saturday, December 30 vs. St. Louis at 7:00 PM
Saturday, January 6 vs. Buffalo at 7:00 PM
Saturday, January 27 vs. Montreal at 7:00 PM
Sunday, February 18 vs. Los Angeles at 6:00 PM
Thursday, March 7 vs. Washington at 7:00 PM
Saturday, April 6 vs. Tampa Bay at 1:00 PM
A permanent display on the FedEx Level of PPG Paints Arena will be home to the visiting penguins and also feature footage of the National Aviary's Penguin Point habitat for the games when the birds aren't at the arena. The National Aviary is a global leader in the conservation efforts to save endangered African Penguins from extinction. More info can be found here.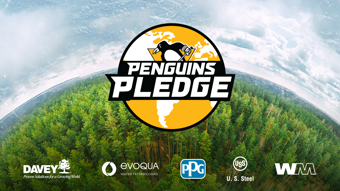 The Penguins Pledge, launched on April 25, 2023, is a sustainability initiative that serves as the organization's commitment to improve all efforts of social, economic and environmental sustainability. Since its inception, the Penguins Pledge has grown to eight partners, including Champion Partners PPG, U. S. Steel, Evoqua Water Technologies, INDRA Energy and EQT, as well as Impact Partners Bradenton CVB, Waste Management and Davey Tree Expert Company.
The Penguins Pledge is a collaborative effort with key partners with the goal of reducing negative impact on the environment and promoting sustainable practices to help preserve natural resources, while also supporting economic and social development. 
For more information about the Penguins Pledge, please visit https://www.nhl.com/penguins/community/penguins-pledge.