Posted: March 15, 2018
Building and sustaining an urban forest program within a local government is one of the most challenging and rewarding opportunities out there. There are many old and new tools available today for the urban forester to utilize to be more efficient. Can you imagine not using chainsaws, bucket trucks, or smart phones? It is interesting that while technology has changed so have the demands on today's urban forester. As urban foresters today not only do we have to manage the biological tree resource we also have to manage the politics and people that benefit, fund, and hopefully support our efforts.
The underlying theme of trying to build a better Urban Forestry Program is one of capacity. Capacity is complicated. As urban foresters our capacity is directly impacted by our available resources (budget, staffing, equipment, etc) and support (elected officials, managers, general public). If we can effectively communicate the value of our efforts then we can get more support which will lead to more capacity leading to more support leading to more capacity…
At Davey, we are passionate about helping you to do your job more effectively and to try and help you build capacity. We believe that if all urban forestry programs had the support and capacity to create their ideal urban forests then the world would be a much better place.
A new tool that we have developed to help you communicate and grow your urban forest program is illustrated below as the Urban Forest Program Continuum.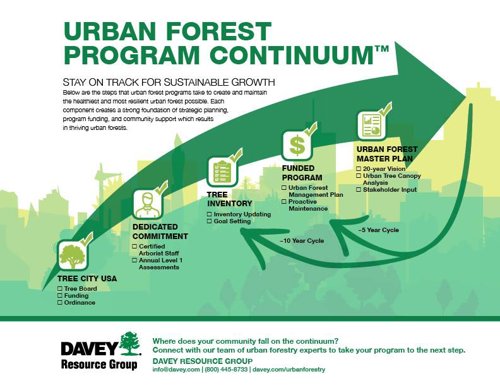 This infographic is is meant to be customized for your specific milestones/goals. While the Continuum can be customized for your program the real strength is how you use your existing resources to leverage to create more capacity. The goal is twofold; self assessment and advocacy.
Self Assessment
The Continuum can be used as a form of self assessment to help determine what milestones have been accomplished and what goals should be next. By clearly laying out what elements you believe make up a complete urban forestry program you can put together a comprehensive strategy. With a proper self assessment you will also better understand what capacity you have internally and what needs to be augmented with volunteers or contractors.
Advocacy
As urban foresters we need to be in a constant mindset of how we can better advocate for our program and leverage our accomplishments. It has been said many times that we need to do a better job of self promotion and telling our stories. Once you have completed a self assessment and updated your accomplishments and goals, this infographic can help you to clearly and succinctly communicate with a wide audience. Oftentimes, department managers, elected officials, and the general public aren't fully aware of the multiple demands that are required to manage a biological asset like trees in an urban environment. With clear and consist communication comes results.
Conclusion
This Continuum infographic is meant to be a fully adaptable tool for you as urban forest program managers to clearly articulate your accomplishments and goals for building a sustainable urban forestry program. By identifying your desired milestones, performing a thorough self assessment, and then communicating accomplishments and goals then hopefully you will have more capacity to accomplish more milestones. Notice the two purposeful feedback loops? Our trees are constantly changing, so should or programs. It is critical that certain milestones be reevaluated and modified as circumstances dictate.
Davey is proud to be a partner and trusted resource for you as you work to build your program. If you would like to explore opportunities to affect positive change on your community we would love to hear from you.