Posted: December 19, 2019
When the first signs of fall start to arrive - dropping temperatures, changing leaves, and shorter days - resource managers often consider putting outdoor projects on hold until the spring. While waiting until warmer weather returns seems to be logical, there is a missed window of opportunity in the dormant season to plan, plant, and maintain natural areas.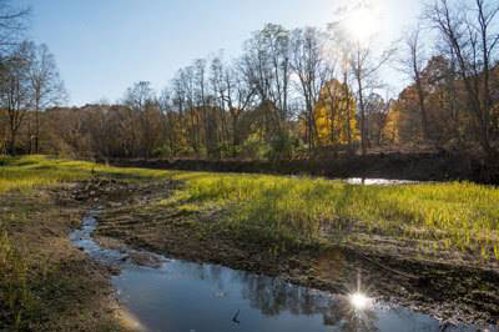 Planting
The best time of year to plant woody plants and wildflowers is during the fall season for several reasons. Drier ground means natural area worksites are less muddy and easier to navigate, warm soil temperatures paired with cool air temperatures help promote root growth, and there is less chance for dry winds to evaporate moisture from the plant. New plants typically don't need watered as much because of fall rains.
Successful planting can occur up until the ground is frozen, but seeding wildflowers should be done by September 30 at the latest. When the winter weather starts to arrive frost heaving could occur, which is the cyclic freezing and thawing of groundwater that causes soil to move upward and young plants with insufficient root growth to come out of the ground. Having seeds planted by early fall ensures roots have adequately grown and avoids frost heaving.
Invasive Vegetation Control Treatments
Invasive plants growing in natural areas are also best controlled during the fall and winter months. Prescribed burning can control invasive vegetation in natural areas, like woody species in meadows. Burning the biomass when it is dry and the ground is wet revitalizes native plant communities by promoting quick germination when the ground warms in the spring while also treating undesirable invasive plants.
Certain invasive species, like honeysuckles, retain their foliage longer into the fall than many native plants, making the dormant season an excellent time to apply foliar treatments. Invasive plants in non-forested meadows are more easily controlled in the fall via stump cut and basal bark herbicide treatment, which targets the still active invasives while reducing the chance of impacting desirable plants.
While herbicide treatment may be a resource manager's first method of invasive vegetation control, non-chemical treatments are also viable solutions. Mechanical, biological, and cultural control methods can be executed before using chemical control.
Management Plans
The dormant season often affords resource managers time for strategy and planning. If management plans are completed during the fall and winter months, resource managers will be prepared to spring into action during growing season or when the fiscal year starts.
The management plan process consists of an initial site visit, an establishment of client goals, and land and tree assessments for invasive plants and at-risk trees. After it is prepared, a management plan will offer recommendations for tree care, site maintenance and budget adjustments, taking into account future land use possibilities and other client goals.