Posted: October 01, 2018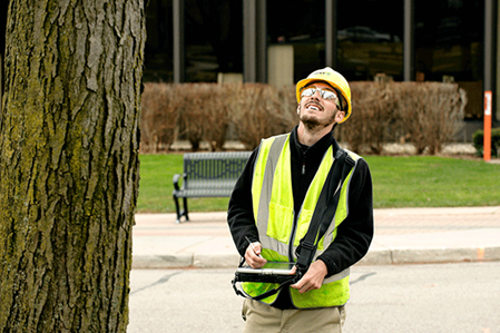 By Josh Behounek, Urban Forestry Market Manager 

By now we are all supposed to be traveling by flying cars and our kids would all be breaking bones on hoverboards. We have constantly been promised that technology will make our lives better and easier. It's hard to believe that the iPhone is only 11 years old, can you imagine a world without texting?
Technology won't replace arborists but arborists who use technology will probably replace arborists who do not. As an industry, we are not big or powerful enough to really drive technological hardware innovations but we are able to drive software innovations. We have also done a great job at looking at how certain technologies are used in related fields like agriculture, traditional forestry, asset management, etc. and adapted and applied these technologies to urban forestry.
At Davey Resource Group our brand promise is Solutions Through Innovation and Expertise. We pride ourselves on staying up-to-date on current technologies as well as evaluating emerging technologies to see if they may offer better solutions for our clients. For the purposes of this article, I've grouped the technology into 4 areas and chose the top 3 technologies within each category - Top Down, Bottom Up, Software, and Mobile Applications. By no means is this meant to be a comprehensive list of all available technologies. This is meant to be more of a snapshot of the current landscape.
If you would like to learn more about these technologies and to see actual case study examples I encourage you to attend my upcoming Webinar on Nov 2nd at 1:00 PM Eastern time.
Top-Down Technology
Hyperspectral Imagery
Most commonly Hyperspectral Imagery (HSI) is collected by flying a fixed winged aircraft over an area of interest during leaf on conditions. The sensors that are used capture over 250 unique spectral signatures. Ground truthing is required to obtain the unique spectral signature of each tree species that is to be identified. These ground-based tree points are classified into unique spectral signatures and by using machine learning we can accurately extrapolate and locate >90% of those trees.
Urban Tree Canopy Analysis
An Urban Tree Canopy Analysis (UTC), also called a Land Cover Analysis, is a top-down look at an area using satellite imagery. The most common form of analysis is by using automated feature extraction software to locate the following 5 land cover types:
Urban tree canopy
Pervious surfaces - open fields, grass, etc.
Impervious surfaces - roads, buildings, parking lots, etc.
Bare soil
Water
Many communities are using UTC's to better understand the location and extent of their tree canopy as well as possible available planting locations. Canopy goal setting and canopy preservation are the main outcomes from a UTC.
LiDAR

LiDAR measures range by using either ground-based or aerial sensors that pulse laser light out, generating a 3-D map based on what is returned. This technology is commonly used in urban forestry to create high-resolution maps of the urban tree canopy or street trees. Usually, this is conducted along with other asset inventories like utility poles, street signs, etc.
Bottom-Up Technology
Crowd Sourced Tree Inventory
Many communities throughout the world are using citizen scientists for a variety of field data collection initiatives. Many of these projects are run by the city or non-profit staff and utilize trained volunteers. Recently the City of New York City released their inventory of over 600,000 trees that was done almost entirely by volunteers. There are a variety of ways to conduct these types of inventories but the most common way is to use software like TreeKeeper or Open TreeMap.
Machine Learning
The idea behind this technology is if we can teach a machine how to identify certain elements (species, risk, size) of a tree then we can quickly extrapolate that information over large datasets. The holy grail would be to be able to accurately identify tree species from a photographic image like Google Streets or Microsoft's Bird's Eye. This technology is already being used to unlock your phone, identify bird species, and even drive our cars.
Video Tree Inventory

The quality of the video has dramatically improved over the past few years. Recently the technology has also included the integration of GPS along with video capture. With this update, we are now able to mount HD video cameras to vehicles with GPS enabled in order to accurately locate trees and other assets. A trained technician can isolate video images and integrate them into your TreeKeeper system and determine tree location, condition, size range, risk, and species genera.
Software
With the complete adoption of cloud-based storage and increased mobile capabilities urban forestry related software continues to improve. The main players in the software world are i-Tree, ESRI, and tree inventory software. Many communities are also using various adaptations of Google to do things like map trees with Google Maps, log work information with Google Forms and track inventories and history with Google Sheets or Microsoft Excel. As hardware continues to improve with regards to battery life and connectivity this technology will only get better.
Over the years various companies have created 3rd party tree inventory software systems but the only one that has stood the test of time and consistently lead the pack is TreeKeeper (TK). TK is a web-based software that enables clients to create &/or manage a tree inventory. Some features of TK are unlimited users, unlimited data, integrated i-Tree benefits information, work order management, custom reporting, free upgrades, integration with 3rd party applications like 311, Cartegraph, CityWorks, and dedicated customer support
i-Tree has continued to involve and modernize over the past 10+ years. What originally started out as a small suite of software meant to create static reports on the benefits of trees has evolved into a robust offering that facilitates calculating tree benefits on the individual, parcel, & regional scale. Some of the recent updates include myTree, i-Tree Design, i-Tree Canopy, i-Tree Planting, and i-Tree Harvest.
ESRI StoryMap

A couple of years ago ESRI developed the StoryMap tool which enables users to take GIS data and tell a story with a customizable online website. This application is great for interpreting complex tree inventory, UTC, and i-Tree data to the average homeowners. By using the power of GIS, engaged citizens can zoom in and see vital information about the urban forest and become more aware. A really good example is how Columbia, MO used an ESRI StoryMap to convey the results of their recently completed Urban Forestry Master Plan.
Mobile Applications
There's an app for that! The rate of mobile application creation is impossible to keep up with. Unfortunately, many developers don't have the ability to keep up with Google and Apple as they improve their mobile software so while an app may work great one day it may not work the next. Regardless, mobile apps can be one of the most powerful tools in the arborist toolbox. The key to mobile apps is having the patience to figure out what works for you and be willing to invest in the quality versions.
This is a free app that is available on iPhones released by the Arbor Day Foundation. I find this app very helpful with possible tree identification. While not perfect, it does do a decent job at least narrowing down the possible trees, with a little extra work and using the built-in photos and descriptions one should be able to accurately identify the tree in question.
The Texas A&M Forest Service released this app for free to all mobile users. The strength of this app is helping City Foresters and/or volunteers to quickly locate and map trees with high risk following a storm or other natural disaster. The app uses your phone's built-in GPS to locate the position of the tree and it comes with built-in pick lists to guide the arborist. Once your inventory of high-risk trees is complete you can export out the list in Excel or continue to use the app to assign work or do follow up inspections.
This app was developed by the Nature Conservancy and is aimed and helping you to take action through proper care of newly planted trees. The app has 5 modules (Tree Planting, Proper Stewardship, Pruning, Tree Health Monitoring, and Eary Pest Detection) that help you to engage volunteers or staff in the importance of regular tree maintenance. Once a tree is mapped on the app it is very simple to revisit that tree and log maintenance activities. This app is great to use when trying to direct volunteers to which trees need which maintenance and to educate them as to all the aspects of proper tree care.
If you would like to learn more about these technologies and to see actual case study examples I encourage you to attend my upcoming Webinar on Nov 2nd at 1:00 PM Eastern time.