Posted: August 26, 2021
Large swaths of land with a monoculture of invasive vegetation are an undertaking to tackle. Depending on the acreage, large crews with even bigger vehicles and spraying equipment can take long periods of time to apply herbicide to a utility right-of-way (ROW), lake shoreline, or other invasive-infested plots of land⁠—running up costs, risking the safety of those who are applying the chemicals, and potentially damaging the soil underneath the vegetation.
One new piece of equipment landing in the lineup is a drone. Drones are cost-effective, time-cutting solutions to large-scale invasive vegetation spraying projects when paired with boots-on-the-ground spraying. With drones, pesticide applicators are able to: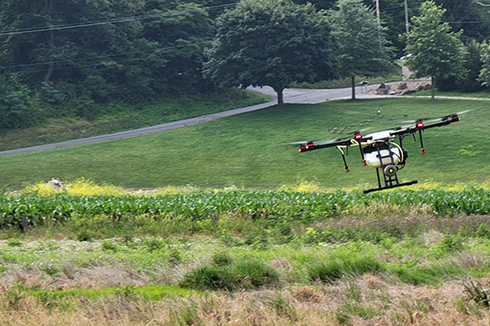 Decrease the size of the crew needed for spraying
Reduce soil displacement on-site
Reduce transmission of additional non-native, invasive species via equipment
Reduce the amount of equipment needed on-site
Significantly increase the acreage that can be sprayed, depending on site conditions
Significantly reduce the time it takes to spray large-scale projects
Significantly reduce the amount of crew exposure to the herbicide
Drones can also get closer to the vegetation that needs to be sprayed than helicopters, providing a more precise application to the area and a decreased likelihood of windswept herbicide.
Case study: Bath Nature Preserve
Since April, Davey Resource Group, Inc. (DRG) has been performing routine maintenance on the Moore's Chapel wetland in the Bath Township Nature Preserve in Bath, Ohio. The wetland is infested with a monoculture of invasive vegetation which is choking out native, beneficial species that could damage the delicate balance of the native ecosystem. DRG operators use drones to apply herbicide over 3.22 acres of the infested area. The program has reduced the amount of time out in the field and the amount of water needed to mix with the herbicide, resulting in lower costs for the nature preserve and a safer work environment for DRG crews.
DRG is certified as an agricultural aircraft operator by the Federal Aviation Administration (FAA), and all of DRG's drones are registered with the FAA.