Posted: November 16, 2020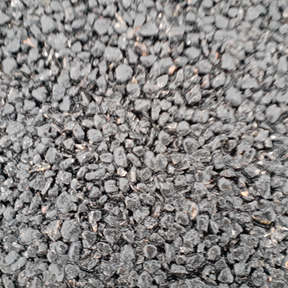 Right: A view of properly draining pervious pavement.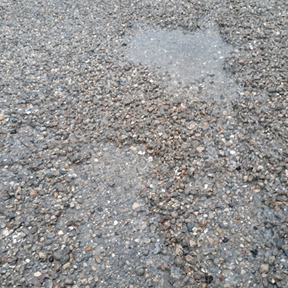 Left: Standing water like the puddles pictured here indicates the pervious pavement isn't draining properly.
Traditional pavements are designed to support vehicles of many sizes and weights. They are also solid and impervious, which increases surface runoff during wet weather. Permeable pavements can support most vehicle loads, but also allow water to pass through and can provide storage for water in the pavers' gravel substrate until it infiltrates. While there are several types of pervious paving systems out there, in this article we are covering winter maintenance operations for porous asphalt, pervious concrete, and permeable pavers.
Porous paving systems function as filters, which means that sediment can quickly build up in the pavers' pores. All filters require periodic cleaning, but there are a few tasks to put at the top of your checklist and others to avoid:
Do: Develop a maintenance schedule based on the type of pavement and surrounding conditions. If deciduous trees are present or sediment sources are nearby, they may require more frequent inspections and cleaning.
Do: Clean pavement with a high-efficiency vacuum. It may also require periodic washing. Now is the best time to perform this work so that water doesn't pool and freeze during winter causing slippery conditions and possibly damaging the pavement through the freeze-thaw cycle.
Do: Attempt to clear snow with a snowblower or plow equipped with skids or rollers to avoid pavement damage.
Don't: Wait until water ponds
Don't: Allow plowed snow piles to remain on pervious pavement. It often contains sediment that will be released into the pavement as it melts.
Don't: Apply salt to new installations. Wait a least a year and then use calcium chloride sparingly. If the pavement is draining correctly the system will dry quickly with minimal de-icing.