Posted: September 03, 2020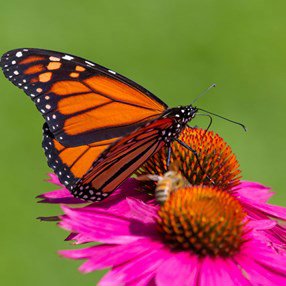 Sustainability has become a pillar of every industry—and some industries are finding that they can readily incorporate sustainable standards into their operations. For industries like transportation and energy, the current trend is to look at rights-of-way (ROWs) as reserves for low-maintenance and environmentally friendly habitats. These interconnected ROW corridors are increasingly appreciated as key assets to the sustainability missions of both the industry and the communities they serve.
Because utility and transportation ROWs feature expansive land corridors often covered with vegetation that requires frequent and careful maintenance, integrating pollinator habitat into ROW vegetation management programs offers an ideal solution that reduces recurring costs over time.
Pollinators, such as bees and butterflies, are essential to food production for not only wild animals, but also humans. They are important contributors to a diverse and healthy ecosystem. Specially created habitats support the dwindling populations of pollinators and also offer the erosion control benefits of native plants' deep and expansive root systems.
Pollinator habitats are increasingly disappearing, and we need the help of large land managers to turn the tide. ROW corridors are now recognized as key components in the push to both create and connect critical habitat needed by pollinators to survive and reproduce. While planning and executing pollinator habitat installation and maintenance is different from traditional turf grasses, the environmental benefits and positive PR can make it worthwhile to learn the specific implementation and maintenance needs. Davey Resource Group (DRG) partners with clients to consult about their unique landscapes and how best to utilize available land to meet sustainability goals.
Finding the Right Mix
The Ohio Department of Transportation (ODOT) wanted to take proactive measures to increase habitats along ROWs for monarch butterflies and other pollinators after construction projects. Partnering with DRG, ODOT implemented a two-phase research project to evaluate and field test seed mixes that would meet erosion and sediment goals while benefiting pollinators.
For Phase I of this project, DRG evaluated the seed mixes within ODOT's seeding specifications and recommended alternative mixes. Phase II of the project, which is currently underway, is testing the seed mixes in different terrain and geographic locations.
The test sites have been chosen and work is underway to replicate seeding in post-construction sites. Overall, the project will take about four years to complete. Crews are currently monitoring the sites, evaluating the results of the seeding and performing maintenance as needed.
DRG is also working with the Pennsylvania Department of Transportation on a similar statewide project, reviewing and recommending changes to their seed specifications to add pollinator-friendly seed mixes, as well as installation and maintenance recommendations to the specifications.
Increasing Biodiversity in Energy
Since 2017, DRG and the Davey Institute have collaborated with several energy companies in the Eastern and Midwestern U.S. to enhance plant and insect biodiversity on ROWs using integrated vegetation management programs and planting native flowering plants and grasses. These habitats have been established to enhance native biodiversity while suppressing invasive plants, which increases the presence and quality of food sources for native bees, butterflies, and other pollinator insects.
Currently, DRG and the Institute are working to establish new pollinator habitats on these ROWs and maintain and monitor the areas that have been established.
DRG and its subsidiaries are also assisting energy companies to make pollinator habitat management a part of their normal vegetation management regime to increase their environmental value. Client-specific programs may involve unique system habitat opportunities, third-party ROW habitat certification, voluntary participation in conservation initiatives such as the Monarch CCAA, and efficient customized software tools for helping clients manage data, make good decisions, and best tell their sustainability success stories.
As the importance of pollinators garner more public attention, DRG's knowledge and experience helps our partners to reach their sustainability goals.
To Learn More About How Pollinator Habitat Design & Installation May Help You Achieve Your Project And Sustainability Goals, Contact Cheryl Daniels At Cheryl.Daniels@Davey.Com.