Posted: September 08, 2021
Earlier this summer, the national non-profit American Forests released their tree equity score utility. This map of tree equity across the United States is arguably the first large-scale look at how tree canopy is equitably distributed across our urban communities. Understandably, this has gained the attention of community foresters across the United States.
Heightened awareness of social justice issues has caused cities and towns to look at how they prioritize tree plantings and plan for green spaces. Research about the benefits of city trees and green spaces being unequally distributed has become a focus of media attention and has brought environmental justice in regards to urban forestry to the forefront. But authentic equitable change is more than just planting trees in historically disadvantaged areas.
Case Study: Holyoke Urban Forest Equity Plan
Connecting with community members from all parts of a city or town is part of creating an equitable urban forest. Assuring that all voices are heard leads to a more engaged community and assurance that plans are supported by all citizens. The Massachusetts City of Holyoke is a recent example of a city embracing equity through community engagement and planning in their urban forestry program.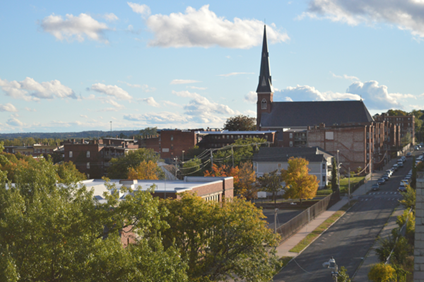 Holyoke was founded in 1850 and is considered one of the first planned industrial cities in the U.S. At its peak of manufacturing in the late 1800s, Holyoke had over 25 paper mills.
The legacy of Holyoke's industrial past can still be seen today in the city's densely developed and populated City Center neighborhoods of Churchill, Downtown, South Holyoke, and The Flats. The majority of land in these neighborhoods is covered by impervious surfaces like roads, sidewalks, and buildings. There are precious few trees, canopy cover, and green spaces in these areas, leaving the communities, which include large Hispanic/Latino populations and lower-income residents, vulnerable to flooding, air pollution, high summer temperatures, and other climate change impacts.
In 2018, Holyoke officials, local stakeholders, and residents participated in a Community Resilience Building workshop as part of the Massachusetts Municipal Vulnerability Preparedness (MVP) Program. The workshop helped create an action plan and implementation strategy to improve Holyoke's natural and climate-related concerns. The action items include:
Coordinate and implement city plans, and ensure certain standards and capacities are met
Install alternative power supplies at critical facilities, including backup generators and battery storage
Rebuild the right-of-way for climate resiliency, including complete streets, combined sewer overflow separation, and burying utilities
Conduct a public education campaign
Develop a tree management, maintenance, and planting program with appropriate species for tree planting.
Over the past year, the City of Holyoke partnered with Davey Resource Group, Inc. (DRG), Fair Forests Consulting, and Community Circle to help implement the workshop's urban forestry-related action items by developing an urban forest equity plan (UFEP) with a focus on the four City Center neighborhoods. A key component in developing and implementing the UFEP was community and stakeholder engagement. The UFEP's engagement activities focused on reaching and involving residents of the City Center neighborhoods and providing them with an opportunity to help shape the plan's recommendations. A variety of strategies were used to gather the resident input and feedback, including partnering with community organizations, and offering bilingual (English/Spanish) meetings and surveys.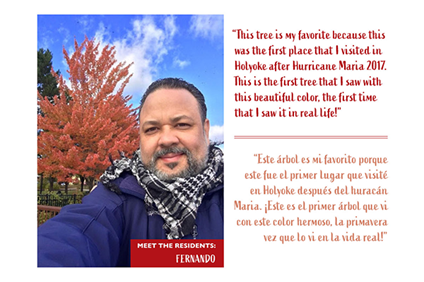 The UFEP outlines recommendations and action steps that will help Holyoke equitably engage and connect with members of the community about their role in the growth, preservation, and care of Holyoke's trees; plan for an equitable, sustainable, and resilient urban forest by developing strategies to support tree canopy growth and preservation; and manage public tree maintenance and planting more effectively by improving data and ensuring resources are in place to support their long-term growth and care.
Holyoke is in the process of taking action on these recommendations. With DRG's help, Holyoke is able to focus on expanding its city tree canopy into the areas that need it most.