Posted: November 03, 2021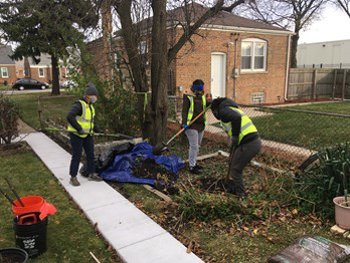 Concepts of environmental justice center around community. By tuning into the needs of the community, urban foresters are able to determine the best approaches to improve equitable access to trees and green spaces. Oftentimes, the best representatives of a community are the non-profits that work closely alongside community members to meet certain needs, such as housing, food, and education.
Combining the objectives of environmental justice and the influence of non-profits can be advantageous to expanding tree canopy in BIPOC communities that have been chronically underserved and are still experiencing the harms of persistent environmental inequities. Opportunities to create change and improve access to nature are best revealed through meaningful dialogue with community leaders and community-based non-profit partners.
Treesilience is an initiative started by The Nature Conservancy (TNC) in partnership with Davey Resource Group, Inc. (DRG) and the USDA Forest Service. This program leverages TNC's relationships with non-profit organizations to tackle two issues that greatly affect equitable distribution of the benefits of healthy trees: disproportionate access to professional tree care for private property owners in vulnerable communities, and the labor shortage in the arboriculture and urban forestry workforce.
Breaking Down Barriers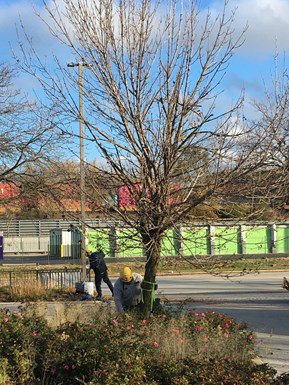 Treesilience began in response to emerald ash borer infestation in the south side of Chicago in 2020. Originally, through this initiative, DRG removed and replaced ash trees on private property. To respond to the increased opportunity beyond ash trees, the initiative was expanded to include the removal and replacement of dead/dying trees of any species as well as mature pruning on private property.
Mature tree care on private property is usually not targeted by organizations that aim to expand urban forest canopy. While public tree planting events are the norm to expand tree canopy, removing dead trees in order to replace them with new ones, or maintaining mature trees to extend their lifespan are additional strategies to help fortify the existing tree canopy.
In 2021, the initiative expanded to St. Louis and Orlando, where initial community outreach is currently underway.
Building Connections
Non-profits play an important role in the Treesilience initiative. TNC state chapters partner with local non-profits in St. Louis, Chicago, and Orlando to build connections within the communities and identify collaborative conservation strategies. TNC also leverages local accountability partners, individuals, or organizations that have strong community-based values that ensure the initiative aligns with environmental justice-based principles.
Partnering with non-profits allows initiatives like Treesilience to inspire action to meet the needs of the community. This program has a direct impact on the community, upholding equity in the urban forest by ensuring tree canopy is maintained or grows in the areas where it is most needed.