Posted: June 11, 2020
Environmental justice might sound like an intimidating term. Defined as "the fair treatment and meaningful involvement of all people, regardless of race, color, national origin, or income, with respect to the development, implementation, and enforcement of environmental laws, regulations, and policies," environmental justice seems like a complicated and broad issue.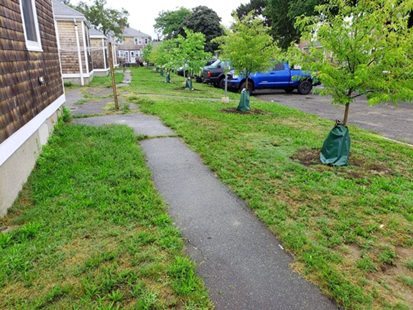 Fortunately, the reality is that implementing an environmental justice framework in urban tree canopy efforts isn't that scary. Read on for strategies to advance environmental justice in your urban or community forestry plans.
How do environmental justice and urban forestry relate?
The equitable distribution of resources is a key driver of environmental justice. Many urban forest master plans focus on reforesting cities while grappling with the fact that existing canopy resources are often unequally distributed. It follows, then, that the well-documented environmental, economic, and physical and mental benefits that trees provide are also unequally distributed.
Urban tree canopy expansion and maintenance requires a financial investment on the part of the city, with most urban forestry departments receiving their funding from tax dollars. As a result, tree canopy coverage tends to be larger and more established in wealthier neighborhoods, and tree canopies are often less than ideal in communities that are economically disadvantaged.
What can we do to help economically challenged areas expand their tree canopy?
Along with funding, every sustainability plan needs to have the support of the community to succeed. While most urban forestry master plans suggest, at a bare minimum, informing neighborhoods when trees will be planted in their area, two other significant elements can help push environmental justice principles: communication and consistency.
Communication should begin months before a tree planting starts and should build trust between the entity spearheading the tree plantings and the community the tree planting is taking place in. Connecting with trusted community leaders to introduce the idea of an expanded tree canopy, holding outreach events at an earlier stage in the plan, and taking local opinion into account when it comes to tree species selection can develop a partnership, rooted in trust, with the area's residents.
But a big part of keeping that trust is staying consistent through action. Following up with these communities to hear and address any concerns while consistently maintaining the new plantings will help ensure a fully developed urban forest.
The best way to guarantee the presence of environmental justice principles in an urban forestry program is to include these elements in the master or management plans. Davey Resource Group can help develop these plans to include an environmental justice framework.