Posted: August 26, 2021
Common buckthorn (Rhamnus cathartica L.) and glossy buckthorn (Rhamnus frangula L.) are deciduous shrubs that originally hailed from Europe and Asia. In the early 1800s, common buckthorn landed in the U.S. as an ornamental plant, sought after because of its compactness, ease of propagation, and hardiness. Despite these enticing qualities, common buckthorn can significantly damage native ecosystems.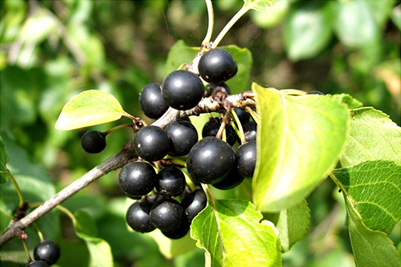 The invasive plant degrades native plant and wildlife habitats wherever it grows. Its hardiness gives common buckthorn its ability to grow in a variety of light and soil conditions, and its fast growth rate and phenology—buckthorn grows bright, glossy leaves earlier in the spring and doesn't go into dormancy until later in the fall—outcompete native plant species. It also alters the soil to have higher nitrogen levels, which can encourage the growth of other invasive plant species.
To top it off, buckthorn berries are not a good food source for native wildlife. They have virtually no nutritional value to birds and other small animals and cause distressing intestinal effects that can be deadly.
This invasive plant needs to be controlled quickly once spotted. The most effective method of control for woody invasive species like common buckthorn is:
Cutting stems in fall and winter using a chainsaw, brush cutter, or forester mower
Painting stumps with herbicide immediately after cutting
Follow-up herbicide spraying during the growing season
Once common buckthorn is controlled, there are a number of ways to restore the site, including:
Planting native seeds
Installing native plugs and/or potted plants
Monitoring a natural site restoration to make sure the common buckthorn is fully controlled
Buckthorn is Identified as Most Prevalent Species in Chicago Area During Tree Census
In 2020, Davey Resource Group, Inc. (DRG) partnered with the Morton Arboretum to conduct its second tree census, remeasuring 1,576 plots that were originally collected in 2010 in Chicago and seven surrounding counties. Click here to read more about the project.
Local officials were surprised to find that buckthorn accounted for 38% of the total trees in the survey. These species are preventing other native trees from growing to full maturity to provide the benefits of a larger canopy.
The census gave the Morton Arboretum a comparative snapshot to the first census and serves as a strategic guide for local and regional stakeholders to understand the current forest trends and make informed decisions about improving and protecting the forest. The arboretum is using this data to inform programs and outreach and engage Chicago-region partners in tree management.
How Can DRG Help?
Davey Resource Group, Inc. (DRG) can help identify and control invasive plant species like common buckthorn.