In this TMJ4 article, Justin Bence from Davey's North Milwaukee office talks about zombie trees, or trees that appear healthy but are actually not.
Posted: November 09, 2023
It's peak Halloween season, and zombies are among us. Thanks to some unusual Wisconsin weather this year, many trees have become "zombie trees" which are trees that look healthy — but are actually dead.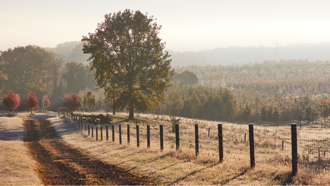 Justin Bence is a certified arborist in the Milwaukee area who says the heavy, wet snow that blanketed the state in early spring is leading to the discovery of more zombie trees.
"Once leaf weight comes on board or other weather issues, now that fracture or that impact that the previous storm had, can cause significant damage," Bence explained.
There are some ways to spot a "zombie tree". Fungi growth on the trunk can be a sign of trouble and so can a hollow trunk. Sick or damaged trees are capable of toppling without warning and you can quickly find yourself in a scary situation.
To read more of Justin's interview, click here.
For more information, contact the North Milwaukee Davey office.