In this Akron Beacon article, Dan Herms, vice president of research and development at the Davey Institute talks about beech leaf disease and how the institute is implementing a solution.
Posted: September 14, 2023
Fall in Northeast Ohio wouldn't be the same without the golden-yellow color of beech trees' oblong shaped leaves. But an invasive pest is imperiling the state's beech population, impacting saplings and seedlings the most, killing them within a few years and changing the ecology of the forests.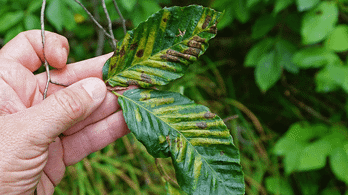 The beech tree — present in all 88 counties — plays an important role in Ohio's forests, serving as a food source and even a home for a vast array of wildlife. According to the Ohio Department of Natural Resources, beech leaf disease is present in at least a dozen counties in Northeast Ohio, including the Greater Akron area.
Since being discovered in Northeast Ohio in 2012, the disease has spread to 12 other U.S. states and Canadian provinces as well.
A microscopic, wormlike nematode damages the leaf tissue of beech trees, making them weak and vulnerable to disease, eventually killing them. Thousands of the nematodes infect the buds of the trees, wreaking havoc on foliage developing during winter. When the leaves unfold from the buds in springtime, the damage becomes apparent.
To read how Davey is helping find a solution, click here.