Posted: November 02, 2020
In this WGN 9 News interview, Matt Schaefer from Davey's Barrington office in the Chicago area says fall is a great time to plants new trees and gives 5 tips on preparing your trees for winter.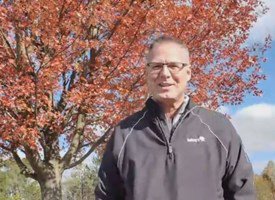 Preparing Trees for Winter with the Fall Five:
Plant.

 

Fall is the optimal time to plant a tree. The mild weather and frequent rainfall help roots establish quickly and grow strong. Plant trees by the end of November. Choose a location that can accommodate the mature size of the tree, which will add value to the property for years to come.
Mulch.

 

Trees benefit from a 2-4-inch blanket of mulch over as much of the root zone as possible. It acts as a moisture barrier and helps maintain a consistent soil temperature. Keep mulch 2-3 inches away from the trunk of the tree. Also, be sure not to pile it up against the trunk like a volcano as that can trap moisture, creating a cool hideaway that attracts fungus, disease, and pests.
Prune.

 

Removing dead, diseased, or unsafe branches helps trees maintain a safe structure and tolerate high winds. Certified arborists specialize in knowing just what branches to remove (and how to do it) to reduce hazards. Well-maintained, properly pruned trees are less likely to break and cause damage in heavy wind, rain, and snow. 
Fertilize.

 

Even though trees appear dormant during winter months, their roots continue to grow and need nutrients. Apply a slow-release fertilizer to help keep trees nourished all winter long. Come spring, your trees will be blooming and ready to show off.
Keep pests away.

 

Apply dormant oil in the fall to stop insect larvae from developing further. While dormant oils eliminate harmful pests, they're less toxic to beneficial bugs. In spring, you'll have fewer bugs gnawing on fresh tree buds and fruit.
Be sure to CLICK HERE to watch Matt Schaefer talk more about these tips.