In this Boston Globe article, Dan Herms, vice president of research and development, shares which trees will best withstand climate change in coastal New England.
Posted: June 05, 2023
Gardeners should consider the effects of a steadily warming climate when they make plant choices this year, experts say.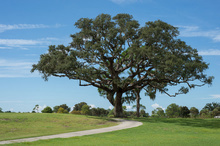 "Climate change is very gradual, but we're definitely seeing plant choices change a little bit," said Chris Kennedy, owner of Kennedy's Country Gardens in Scituate. Eastern Massachusetts is included in the plant hardiness Zone 6b, but the number is expected to rise. That means some common plants that flourish here now will need to go north to survive, while plants such as the Southern Magnolia Grandiflora will ultimately do well here.
But this spring, many traditional choices will still hold up against the chances of more 90-degree-plus summer days, heavier rains, and flooding that climate change brings.
To read about Dan's picks, click here.