Posted: March 08, 2021
24 healthcare facilities across the country are recognized for their leadership in wellness and community engagement through trees
Lincoln, Neb. – The Arbor Day Foundation has recognized 24 healthcare facilities across the United States as Tree Campus Healthcare facilities. The healthcare institutions earned this recognition by demonstrating a commitment to improving community wellness through tree planting, education, and community engagement.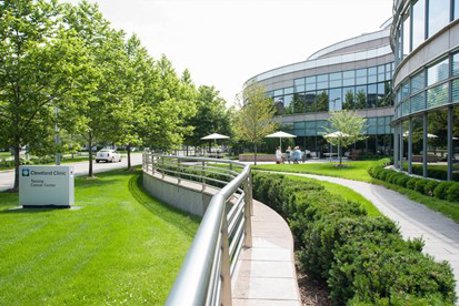 "We are honored to recognize these healthcare facilities which aim to improve the physical and mental wellbeing of their community with the simple act of planting trees," said Dan Lambe, president, the Arbor Day Foundation. "We're grateful to our collaborators like Practice Greenhealth and our professional partner The Davey Tree Expert Company for continuing to share our vision of raising awareness of the role trees play in the global future of health as well as supporting the continued growth of the program."
Sandra Reid, vice president of corporate communications and strategic planning administration at Davey Tree, said the events of the previous year made even more clear the importance of healthcare workers and campuses. "Over the past year, we have all learned exactly how critical first responders are to our communities," she said. "At Davey, we are proud to support a program that helps healthcare facilities work with their surrounding communities to make the link between trees and human health."
Recognized healthcare facilities demonstrated a profound understanding of the intersection of nature and human health through activities like distributing free trees to community members and using trees to create therapeutic landscapes on campus. Each facility met five program standards throughout the year: the formation of an advisory committee, development of a tree care plan, participation in a community forestry project, sponsorship of a celebration event or education campaign, and a suggested commitment to financial investment in tree projects, education events, and community outreach.
Recognized facilities include UAB Hospital (AL), Orlando Health – Downtown Campus (FL), Tanner Medical Center/Carrollton (GA), Westminster Village (IL),  Masonic Homes Kentucky (KY), UK Healthcare (KY), Notre Dame Health Care Center (MA), MedStar Harbor Hospital (MD) Perry Point Veterans Affairs Medical Center (MD), Spectrum Health Blodgett Hospital (MI), Atrium Health Lincoln (NC), Atrium Health Mercy (NC), Cleveland Clinic (OH), The Ohio State University Wexner Medical Center (OH), Coatesville Veterans Affairs Medical Center (PA), Penn State Health Milton S. Hershey Medical Center (PA), UPMC Children's Hospital of Pittsburgh (PA), UPMC Shadyside (PA), The Medical University of South Carolina (SC), CHRISTUS Mother Frances Hospital – Tyler (TX), UT Southwestern Medical Center (TX), Seattle Children's Hospital (WA), Amery Hospital and Clinic (WI), and Westfields Hospital and Clinic (WI).
"Within a developing urban region, the need to balance green space and gray space is a strategy to mitigate climate impacts on vulnerable communities. As urban temperatures continue to increase, the value of tree canopy also increases," said Dr. Allison Robinson, Director, Environmental Initiatives at UPMC. "The Arbor Day Foundation's Tree Campus Healthcare program is an opportunity for healthcare organizations to demonstrate their support for their employees and communities served."
Community outreach is an integral part of the program because the Arbor Day Foundation prides itself on inspiring members of the community to go out and plant trees. From our recognized campuses, many have dedicated their time to creating meaningful opportunities for people to engage in planting trees in their communities. For example, UPMC partnered with Alliance for Community Trees member Tree Pittsburgh to give away 70 trees to employees while providing education on the health benefits of trees and proper planting and care.
Research shows that patient interaction with green space, gardens, parks, and natural areas helps the human condition. Trees specifically can improve respiratory health, lower urban temperatures, improve mental health, and provide restorative properties.
For more information, please visit www.treecampushealthcare.org. This program is made possible through financial support from professional partner The Davey Tree Expert Company and the collaboration of the Professional Grounds Management Society, Practice Greenhealth, and the USDA Forest Service. Interested inpatient healthcare facilities may apply for 2021 recognition this fall.
About the Arbor Day Foundation
Founded in 1972, the Arbor Day Foundation has grown to become the largest nonprofit membership organization dedicated to planting trees, with more than one million members, supporters, and valued partners. Since 1972, more than 400 million Arbor Day Foundation trees have been planted in neighborhoods, communities, cities and forests throughout the world. Our vision is to help others understand and use trees as a solution to many of the global issues we face today, including air quality, water quality, climate change, deforestation, poverty and hunger.
As one of the world's largest operating conservation foundations, the Arbor Day Foundation, through its members, partners and programs, educates and engages stakeholders and communities across the globe to involve themselves in its mission of planting, nurturing and celebrating trees. More information is available at arborday.org.
About The Davey Tree Expert Company
The Davey Tree Expert Company provides research-driven tree services, grounds maintenance and environmental consulting for residential, utility, commercial and environmental partners in the U.S. and Canada. Established in 1880 and headquartered in Kent, Ohio, Davey Tree is in the top 10 largest employee-owned companies in the U.S. and has more than 10,000 employees who are driven to create and deliver sustainable solutions. Discover your Davey career and apply today.