In this Livingetc article, Dana Karcher, from the Colorado Davey Resource Group, shares which trees can help you bring more birds into your landscape.
Posted: June 12, 2023
Creating a backyard that will attract colorful songbirds enhances the wildlife credentials of your outdoor space like nothing else while also promoting a harmonious ecosystem. Planting bird-friendly trees that offer food, shelter, and a place to nest is the easiest way to make your garden the No 1 hangout spot for birds in the neighborhood. And they'll be so good for your soul, helping to create a space you can easily commune with nature.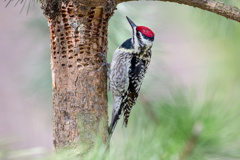 The best time to plant trees for songbirds in your backyard is typically in the fall or early spring as this allows the roots to establish before summer temperatures start to rocket. As ever it's good to think local, and research the best trees for songbirds that will work in your area according to their likes and nesting habits. Remember that different types of songbirds thrive in different types of trees.
If you have space, plant a variety of trees, and create a layered understory of shrubs and ground cover plants to max up the foraging opportunities for birds. Now find out more with our expert selection of the best trees for songbirds.
To read Dana's recommendations, click here.