Posted: December 11, 2019
In this Cleveland Magazine article, Brad McBride, sales arborist with Davey's Northeast Cleveland office discusses tips on keeping evergreens healthy this winter.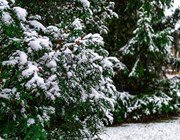 Decorating your Christmas tree isn't the only sprucing up your evergreens will need. Pines, spruces, hemlocks and other types of evergreen trees need to be watched and maintained more than you might think. "Healthy, vigorous trees are more likely to be able to withstand environmental stress and pest stress," says Brad McBride, an arborist at the Davey Tree Expert Co. "Most people purchase evergreens and plant them in their yards, so we want to make sure that you are taking care of them and that investment." He shares his top tips with us.
To read more, click here.