Posted: July 07, 2020
In this Tribune-Review/TribLive.com interview, Miles Stephens of Davey's South Pittsburgh office, discusses the importance of reporting spotted lanternfly larvae in Pennsylvania.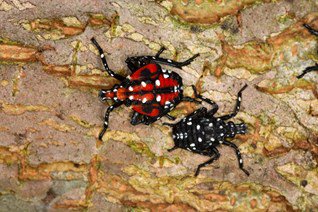 Allegheny County could be overrun with the beautiful but disgusting spotted lanternfly within two years if the public doesn't find and report them this year, according to a Penn State researcher.
Spotted like a Dalmatian, a lanternfly nymph recently found in Lawrenceville heralded its persistent presence in Allegheny County.
Some small populations and isolated sightings of lanternfly and egg masses were reported earlier this year by Pennsylvania Department of Agriculture. The agency placed Allegheny and Beaver counties under quarantines requiring businesses to take precautions shipping outside the county.