Posted: July 02, 2020
In this Chestnut Hill Local article, Jason Parker of Davey Tree's North Philadelphia office, talks about spotted lanternfly in Pennsylvania and how to handle them.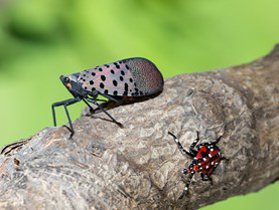 Be vigilant. Keep your eyes peeled. Spotted lanternfly nymphs have hatched.
It's quiet now, but in a couple of weeks, adult spotted lanternflies will soon be wreaking havoc on Chestnut Hill and its residents' way of life.
The insect, a planthopper native to Southeast Asia, uses its piercing-sucking mouthpart to feed on the sap of fruit trees, hops, and grapevines. Spotted lanternflies suck in sap and excrete "honeydew," which can attract other insects and cause mold to grow on the tree.
Jason Parker, district manager for Davey Tree, said residents in our area are going to see a population explosion in the number of spotted lanternflies.
To read the full article, click here.