Posted: November 20, 2020
In this Associa article, Jason Reitter from Davey's New Jersey office gives 10 reasons why we should be thankful for trees this holiday season.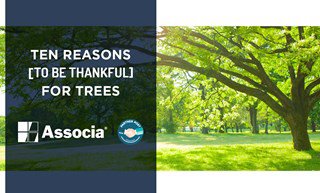 This Thanksgiving, when you're counting your blessings and listing those things you're grateful for, don't forget to add trees to your list. Trees are welcome sights that provide a magnificent backdrop to everyday life.
It's easy to forget these silent beauties and the impact they have on our lives. But Jason Reitter, a local, certified arborist in New Jersey, thinks the best way to show gratitude to your trees is to give them proper care.
"Trees do so much for us. They benefit the environment, keep us healthy and even save us money. In return, all they ask is for a little TLC," says Reitter. "That's where I come in. It's my passion and life's work to keep the trees you love healthy and thriving for years (or even decades to come)."
To read the full article, click here.