Posted: March 06, 2020
Kent, Ohio – The Davey Tree Expert Company President and CEO Patrick M. Covey has assumed responsibility as the chairman of its board, following a board action at the directors' meeting today.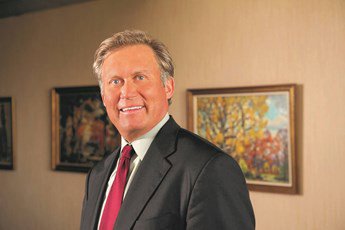 Covey has 28 years of service at Davey and was named president and CEO in 2017. Covey assumes the chairman position during a time of growth and expansion, as Davey announced plans for an addition to its corporate headquarters and development of a new employee training and research facility in Kent last year. The company also achieved $1 billion in total annual revenue in 2018 and has closed on more than 20 acquisitions since January 2014.
Covey takes over as chairman from his predecessor, Karl Warnke, who is retiring as chairman, but will remain on the board. Warnke retired as CEO of Davey in 2017, and his years of service, including as chairman, is 40 years. "I'd like to thank Karl for his years of service to the company, and for the time he spent mentoring me and many of the other executives here at Davey Tree," said Covey.
Covey said the success of the company is rooted in the dedication of all of Davey's employee-owners. "Davey has enjoyed sustained growth and prosperity in recent years because of our employees' collective commitment to safety leadership, high-quality service and a desire to grow their markets," Covey said. "In turn, the company will continue to focus on employee strength and development by investing in education and training, and by continually reaffirming our commitment to employee-ownership."
Over the years, Covey has served in various capacities with increasing responsibility in both the field operations and the operations support segments of the company. Covey joined Davey in 1991 as internal auditor. He transferred to eastern utility operations in 1993 and was promoted to administrative manager in 1996. He was appointed a team leader on the SAP implementation project and managed the systems and process team from 2000 to 2003. In 2003, he was promoted to vice president of southern utility operations, and in 2005, he was promoted to vice president and general manager of the Davey Resource Group. In 2007, he was promoted to executive vice president, operations, a title he held until he became chief operating officer, U.S. operations, in 2012. He was named president and chief operating officer of U.S. operations in 2014. In 2016, he was promoted to president and chief operating officer for all operations.
Covey earned a degree in business from the University of Wisconsin in finance, banking and accounting. He is a member of the board of trustees for the Arbor Day Foundation, is a board member of Environmental Design, Inc., of Houston, and serves on the board of directors of Akron Children's Hospital and Bandit Industries, Inc. Covey is a member of the International Society of Arboriculture and Tree Care Industry Association. He is a certified public accountant and is a member of the American Institute of Certified Public Accountants.
The Davey Tree Expert Company provides research-driven tree services, grounds maintenance and environmental solutions for residential, utility, commercial and environmental partners across North America. As one of the largest employee-owned companies in the U.S., Davey has been dedicated to creating and delivering sustainable solutions for 140 years. Become part of the Davey legacy and apply today.