Posted: October 09, 2019
SAN DIEGO, California – Balboa Park in San Diego is the site for the 2019 North American Tree Climbing Championship (NATCC), the finals of which are sponsored by The Davey Tree Expert Company, from October 11-13.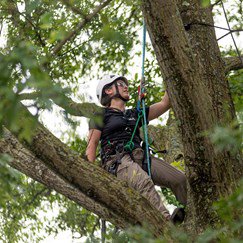 This year, 40 of the top professional tree climbers from the United States, Canada and Mexico will compete for the title of North American Champion while demonstrating their skills as professional arborists. This event is organized by the International Society of Arboriculture (ISA) and showcases arborists in action and helps educate consumers about proper tree work and safety. The NATCC is free and open to the public.
The competition includes preliminary events to be held Saturday in which competitors demonstrate the skills required to safely work in trees. The competitors with the highest scores during the preliminary events will move on to the finals – the Masters' Challenge championship round – sponsored by Davey on Oct. 13. 
"Tree climbing competitions like the NATCC replicate real-world scenarios where arborists demonstrate peak performance skills and safety techniques," said Sandra Reid, vice president of corporate communication and strategic planning administration for Davey Tree. "Davey is proud to once again sponsor the Masters' Challenge, an event that represents the pinnacle of climbing arborists' dedication to being the best in their field."
This year, Davey will have two competitors in the event: Alex Julius, an employee development and safety training specialist from Illinois, and Christian Feichtinger, a foreman with Davey's South Minneapolis residential office.
In addition to the competition, there will be an Arbor Fair and Expo with family friendly activities, including educational exhibits and interactive demonstrations focused on environmental issues and tree care. Davey will host an Ask the Arborist booth on Saturday from 10 a.m. to 4 p.m. Also, visitors can find information about a tree inventory of Balboa Park conducted by Davey Resource Group.
For more information on the NATCC and a full schedule of events, visit www.itcc-isa.com/natcc.
With more than 10,500 employees throughout North America, The Davey Tree Expert Company provides solutions for residential, utility, commercial and government clients. Rooted in research, the company's vision is to achieve balance among people, progress and the environment. Tree experts since 1880, Davey provides diversified tree services, grounds maintenance and environmental services. Celebrating 40 years of employee ownership, Davey is one of the largest employee-owned companies in the U.S. and is headquartered in Kent, Ohio. Want to join us? Discover your Davey career, and apply today.