In this News 5 Cleveland article, Christina Znidarsic, a project manager with Davey Resource Group, shares information about the new Litchfield Wetlands Nature Preserve in Medina county.
Posted: June 06, 2023
A transformation is taking place in Medina County where a former soybean field has become a wilderness filled with wetlands.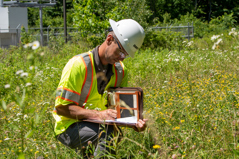 The new Litchfield Wetlands Nature Preserve on Avon Lake Road will open to the public next week. A ribbon-cutting ceremony is scheduled for June 6 at 10:30 a.m.
The $1.2 million project was funded by a $900,000 grant from the H2Ohio initiative through the Ohio Department of Natural Resources and $300,000 from the Medina County Park District.
The 145-acre Litchfield Township site near the Lorain County border includes 80 acres of restored and enhanced wetlands which will treat surface runoff and reduce sediment and nutrients before they can flow into Lake Erie.
To read about Christina and Davey's involvement with the project, click here.