Posted: November 26, 2019
In this Northern Virginia Magazine Q&A, Joe Beall, district manager of Davey's Northern Virginia office, discusses best practices for keeping your evergreens healthy during winter months.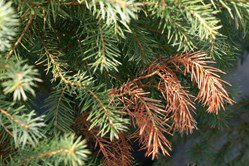 Winter is coming. For many gardeners and homeowners that love a lush backyard, the upcoming season can seemingly be a downer. But not all plants wither away after the first frost. Evergreens, five of which grow naturally in Virginia, are best to plant for winter greenery in our region. We spoke with Joe Beall, the Northern Virginia district manager of the Davey Tree Expert Company to get expert tips on how to best maintain your evergreens this season.
To read the full article, click here.