Posted: February 12, 2020
In this Garden SMART article, Kevin Marks, market manager for Davey's Colorado and Nebraska offices, discusses the importance of soil moisture and tree maintenance during drier winter months.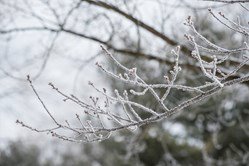 A combination of winter's dry air, low melting precipitation, little soil moisture and fluctuating temperatures can be hard on trees and shrubs. Depending on where you live, there often can be little or no water to provide soil moisture, particularly from October through March.
According to arborist Kevin Marks with Denver's Davey Tree, watering, especially during a dry winter, prevents root damage. Roots continue to grow even as soil temperatures drop below 40 degrees Fahrenheit.