In this Minnesota Good Age Article, Travis McDonald from Davey's South Minneapolis office talks about how your tree could appear healthy, but has unseen problems.
Posted: November 07, 2023
Severe storms can cause immediate visible damage like downed power lines, flooding, and broken branches. However, some trees may just appear undamaged after a storm, leading to a false sense of security.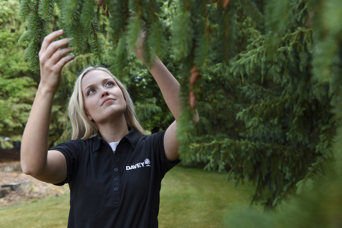 Local arborist Travis McDonald, local arborist and district manager of Davey Tree in South Minneapolis, says, "The true effect of thunderstorms, ice, drought, and even pests and diseases can be hidden for a long time in trees. They might have been more damaged than a homeowner originally thinks."
McDonald says that a dead tree standing, also known as a zombie tree, is a tree that looked okay after a storm or drought and may just now be starting to show signs of trouble. Some of these trees may be able to be saved, while others may be dying from the inside out and need to be removed.
"These risky trees can present danger to unsuspecting property owners, since they may not seem unsafe in the days immediately following a storm or major weather event," says McDonald.
To read how to spot these hidden issues, click here.
For more information contact the S Minneapolis office.