Posted: December 17, 2021
In this Daily Herald article, Matt Schaefer from Davey's Barrington office shares advice on how to care for your trees this winter so they will emerge healthy in the spring.
Cold weather in Chicago means the leaves have fallen and the trees are bare. Luckily, local tree experts say now is a great time to get outside to admire and ensure all your trees are healthy.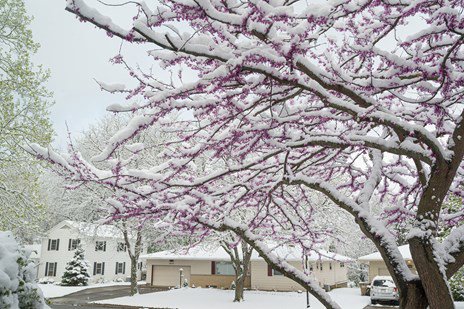 "Think of winterizing as preparation for spring," says Matt Schaefer, ISA Certified Arborist and district manager of the Barrington Davey Tree office. "Some plants require extra protection from harsh conditions and salt."
Schaefer, of Elgin, says the better you care for your landscape in the winter, the less you have to get it ready for the spring. Trees will emerge healthier and perform better when they awaken from dormancy. On the flip side, if plants enter winter stressed, their problems will only worsen.
Regardless of what weather lies ahead, play it safe and keep your trees in pristine condition this winter with these tips.
To read Matt's advice about caring for your trees this winter, click here.