In this CBS Colorado article, Michael Sundberg from Davey's South East Denver office shares how the emerald ash borer impacts ash trees.
Posted: July 12, 2023
Littleton has detected the Emerald Ash Borer in at least one tree in town. The beetle is a non-native pest that has the potential to dramatically change the landscape of Colorado's Front Range.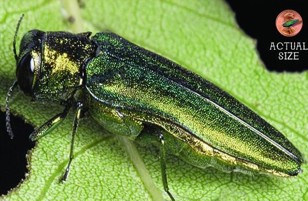 "One in five trees could be wiped out by this pest if people aren't preventative with treatment and getting ahead of it," said Michael Sundberg, district manager for The Davey Tree Expert Company. "They do a lot of tunneling under the bark and damage the tissue that carries the water and nutrients around the tree. It's kind of like the trees' veins, so to speak, that get attacked."
To read more about Michael's comments and the impact of the emerald ash borer, click here.