Posted: September 17, 2019
Kent, Ohio – More than 3,500 green industry professionals are donating a full day's work on Wednesday, Sept. 18, to honor America's military service men and women. Saluting Branches: Arborists United for Veteran Remembrance, a nonprofit organization, marks its fifth-annual day of service with the largest volunteer event in the tree care industry.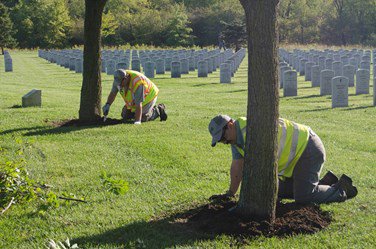 Millions of Americans pay their respects each year at national and state veterans' cemeteries and properties. Saluting Branches brings together arborist experts to improve the beauty and safety of the trees located in these hallowed sites.
With support from industry leaders, Saluting Branches will care for thousands of trees at 67 Veterans Affairs cemeteries, homes and hospitals across the U.S. this year. Leaders include The Davey Tree Expert Company; Rainbow Treecare; Arborwear; Harmon Foundation; Jarraff Industries; Petzl; STIHL; Teufelberger; Teupen, and others.
This year, Davey Tree will send more than 90 employees to volunteer at 18 locations across the U.S.
"After getting out of the military, tree work helped me transition back into civilian life. To be able to give back in this way feels like coming full circle," said Zachary Martin, a foreman on Davey's FirstEnergy account in Cleveland. Martin will volunteer at the Ohio Western Reserve National Cemetery in Rittman, Ohio.
"Tending to trees that decorate these veterans' cemeteries is a tangible way for the tree care industry to give back to those who served this country," said Sandra Reid, Davey Tree vice president, corporate communications and strategic planning administration. "Saluting Branches is an opportunity to ensure these honorable places remain beautiful and safe for families and visitors."
Saluting Branches is a nonprofit organization dedicated to recognizing and honoring veterans by organizing volunteer tree and landscape care for the properties dedicated to them. Saluting Branches and its many volunteers are deeply appreciative of the brave men and women who serve and have served in our military, making it possible for us to have the freedoms we enjoy every day.
With more than 10,500 employees throughout North America, The Davey Tree Expert Company provides solutions for residential, utility, commercial and government clients. Rooted in research, the company's vision is to achieve balance among people, progress and the environment. Tree experts since 1880, Davey provides diversified tree services, grounds maintenance and environmental services. Celebrating 40 years of employee ownership, Davey is one of the largest employee-owned companies in the U.S. and is headquartered in Kent, Ohio. Want to join us? Discover your Davey career, and apply today.