Posted: February 01, 2022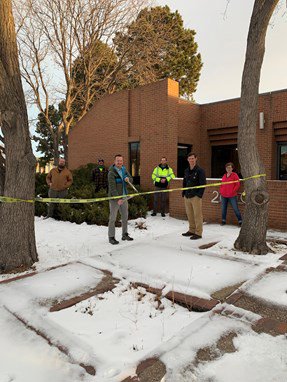 Kent, Ohio – The Davey Tree Expert Company announces the expansion of its Residential/Commercial (R/C) operations in South East Denver, as well as the promotion of two district managers; Michael Sundberg of the new South East Denver expansion office and Jay Judd of the East Denver office. 
"Denver has had an exponential amount of growth the past handful of years, and the need for more tree and landscape services in the area keeps growing," said Kevin Marks, Colorado-Omaha market manager, South Central operating group, R/C services. "The addition of the South East office will allow the Denver area to meet the growing demand in the Denver Metro area, ultimately benefiting our clients' growing needs."
Michael Sundberg
"Michael has always gone above and beyond with exceeding client expectations and has been instrumental in growing the Denver market, which showed his leadership skills early on," Marks said. "I'm excited to watch Michael's growth with his new expansion office and feel he is the perfect leader to take this on." 

Sundberg joined Davey in 2013 as a plant health care (PHC) technician in the West Denver office. In 2015, he was promoted to sales and service coordinator. In 2017, when his former South Denver office was created, he was promoted to sales arborist, then in 2019 to assistant district manager. 
In 2019, Sundberg graduated from the Davey Institute of Tree Sciences (D.I.T.S.), which is Davey's flagship training program in biological sciences, safety, tree and plant care and management techniques. 
Sundberg is an International Society of Arboriculture (ISA) Certified Arborist® and holds a bachelor's degree in environmental horticulture from Colorado State University. 
Jay Judd
"Jay established himself as a leader early on in his career at Davey by rising to the top quickly after displaying extreme attention to detail, focusing on safe work practices and showing high-quality client experience," Marks said. "Jay having his own office will be a great opportunity for him to continue to grow and show how he can continue to expand the Denver market even more." 
Judd joined Davey in 2009 as a trimmer trainee in the West Denver office. In 2011, he was promoted to foreman at the East Denver office. In 2017, he was promoted to sales arborist, then assistant district manager in 2019.
Judd graduated from D.I.T.S. in 2017 and is an ISA Certified Arborist®.
The Davey Tree Expert Company, established in 1880 and headquartered in Kent, Ohio, provides research-driven tree services, grounds maintenance and environmental consulting for residential, utility, commercial and environmental partners in the U.S. and Canada. With 11,000 employees, Davey Tree is the eighth largest employee-owned company in the U.S. Visit www.davey.com to learn more about Davey Tree and discover your next career opportunity.