Posted: March 24, 2021
Kent, Ohio – The Davey Tree Expert Company is proud to announce the promotion of Johnny Page to regional vice president, Gulf region, Eastern Utility services.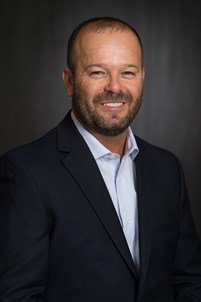 "Johnny is a proven leader that continues to put our clients and employees first while also putting an emphasis on safety, efficiency and quality," said Mike Mittiga, vice president and general manager, Eastern Utility services. "He is continually developing the next level of leaders by positioning them for career growth while instilling the values of Davey, which shows the quality of a great leader."
Page began his career at Davey in 1996 as a groundsperson on the Tampa Electric account. In 2003, he was promoted to general foreman of the same account, then in 2006 to senior supervisor and in 2008 to account manager. In 2016, Page was promoted to area manager, Eastern Utility services, Southern Operations. In 2020, he was promoted to operations manager, Eastern Utility services, Gulf Region.
In 2004, Page graduated from the Davey Institute of Tree Sciences (D.I.T.S.), Davey's flagship training program in biological sciences, safety, tree and plant care and management techniques. He is a Tree Care Industry Association (TCIA) Certified Treecare Safety Professional (CTSP), an International Society of Arboriculture (ISA) Certified Arborist® and holds a Florida State Herbicide Applicator's License.
Page is also a current member of Davey's President's Council, which brainstorms and researches new ideas related to the company's operations and presents them to management for review and consideration for implementation.
The Davey Tree Expert Company provides research-driven tree services, grounds maintenance and environmental consulting for residential, utility, commercial and environmental partners in the U.S. and Canada. Established in 1880 and headquartered in Kent, Ohio, Davey Tree is in the top 10 largest employee-owned companies in the U.S. and has more than 10,000 employees who are driven to create and deliver sustainable solutions. Discover your Davey career and apply today.