Posted: May 06, 2019
Kent, Ohio – The Davey Tree Expert Company is proud to announce the promotion of Andrew Ferguson to vice president of Western Residential/Commercial (R/C) operations.
In his new role, Ferguson will assume oversite of Davey's Western R/C Operating Group and continue to manage the South-Central R/C Operating Group.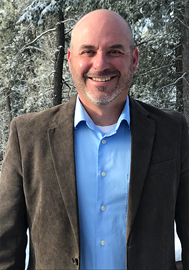 "Andy has an impeccable work ethic, a genuine dedication for the pursuit of excellence and he's a driver of success in his operations," said Jim Stief, executive vice president, U.S. Residential Operations. "We're excited to expand Andy's talents to our Western Operating Group, so we can continue to deliver exceptional services to our clients and inspire our employees."
Ferguson started with Davey in 1998 as a Plant Health Care (PHC) technician in the Denver territory. In 2001, he was promoted to PHC coordinator. Ferguson was promoted to district manager of the West Denver R/C office in 2006. In 2013, he was promoted to operations manager of the South-Central R/C Operating Group.
Ferguson is a former member of the Davey President's Council, which brainstorms and researches new ideas related to the company's operations and presents them to management for review and consideration for implementation.
Ferguson graduated in 2000 from the Davey Institute of Tree Sciences (D.I.T.S), which is Davey's flagship training program in biological sciences, safety, tree and plant care and management techniques. He is an International Society of Arboriculture Certified Arborist®. He holds a bachelor's degree in forest resource management from the State University of New York College of Environmental Science and Forestry.
With nearly 9,500 employees throughout North America, The Davey Tree Expert Company provides solutions for residential, utility, commercial and government clients. Rooted in research, the company's vision is to achieve balance among people, progress and the environment. Tree experts since 1880, Davey provides diversified tree services, grounds maintenance and environmental services. Celebrating 40 years of employee ownership, Davey is one of the largest employee-owned companies in the U.S. and is headquartered in Kent, Ohio. Want to join us? Discover your Davey career, and apply today.