Posted: February 26, 2020
Kent, Ohio – The Davey Tree Expert Company is proud to announce the promotion of Jonathan Almond to district manager, Arborguard Tree Specialists, a Davey company, Charlotte Residential/Commercial (R/C) office.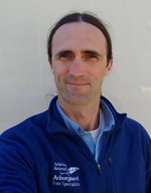 Almond started with Arborguard in the Charlotte office in 2006 as a climber trainee. He progressed to crew leader before transitioning to plant health care technician. In 2014, Almond was promoted to operations manager, Arborguard Charlotte, before being promoted to assistant district manager in 2017.
"As someone who grew up and was educated in North Carolina, Jonathan's familiarity with the local area combined with his breadth of technical knowledge will continue to be an asset to Arborguard's clients," said Keith Francies, operations manager, Southeast Operating Group. "His tree care and leadership experiences will serve him well in leading operations for the Arborguard Charlotte office. I look forward to seeing him lead a team that is dedicated to providing an excellent client experience."
Almond is an International Society of Arboriculture (ISA) Board Certified Master Arborist®, ISA Certified Tree Worker Climbing Specialist®, a Tree Care Industry Association Certified Treecare Safety Professional and is ISA Certified Tree Risk Assessment Qualified.
Almond is a native of North Carolina and holds a bachelor's degree from the University of North Carolina at Charlotte (UNCC) in biology with a concentration in ecology and environmental biology. Almond worked at the UNCC Botanical Garden, caring for the trees on campus.
The Davey Tree Expert Company provides research-driven tree services, grounds maintenance and environmental solutions for residential, utility, commercial and environmental partners across North America. As one of the largest employee-owned companies in the U.S., Davey has been dedicated to creating and delivering sustainable solutions for 140 years. Become part of the Davey legacy and apply today.