Posted: April 05, 2021
Kent, Ohio – The Davey Tree Expert Company is proud to announce the promotion of Jacob LeBarre to district manager of Davey's Akron Residential/Commercial (R/C) services office.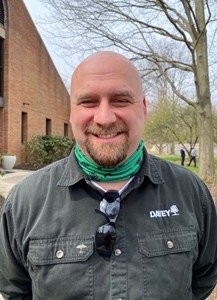 "Jake's enthusiasm for the green industry and strong work ethic set him aside from others early on in his Davey career," said Scott Heim, market manager, Northeast Ohio, R/C services. "I have no doubt Jake will serve his clients, the Akron office and the Davey company well with his new leadership role."
LeBarre started his career at Davey in 2005 after graduating from Kent Roosevelt's vocational education forestry and landscape management program. In 2007, he was promoted to foreman and transferred to the Canton R/C office. From 2008 to 2009, LeBarre left for a tour of duty in Egypt as a member of the Army National Guard and returned to Davey later in 2009 as a foreman in the Akron R/C office. In 2016, he was promoted to sales arborist and in 2018 to assistant district manager.
In 2013, LeBarre graduated from the Davey Institute of Tree Sciences (D.I.T.S.), which is Davey's flagship training program in biological sciences, safety, tree and plant care and management techniques. He is an International Society of Arboriculture (ISA) Certified Arborist® and is also a 2014 graduate of the Davey Advanced Arborist Training Program.
The Davey Tree Expert Company provides research-driven tree services, grounds maintenance and environmental consulting for residential, utility, commercial and environmental partners in the U.S. and Canada. Established in 1880 and headquartered in Kent, Ohio, Davey Tree is in the top 10 largest employee-owned companies in the U.S. and has more than 10,000 employees who are driven to create and deliver sustainable solutions. Discover your Davey career and apply today.