Posted: October 27, 2020
Kent, Ohio – The Davey Tree Expert Company has earned a prestigious 2020 Gold Award from the National Association of Landscape Professionals (NALP) for landscape care at the Babcock Ranch residential community in southwestern Florida.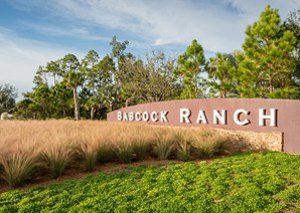 Babcock Ranch is an innovative and sustainable community located in Punta Gorda, Florida, with over 17,000 acres of nature preserves and more than 500 residential homes. A mini city, Babcock Ranch offers public and private residential amenities, complete with walking trails, manicured lawn spaces, crafted landscape beds, and a variety of native trees and shrubs.
The NALP Awards of Excellence recognizes exceptional landscape, lawn care, and interior plantscape design projects from around the nation for maintenance, design/build or contracting projects.
"Davey's grounds crew is proud of their innovative role in making Babcock Ranch a beautiful, safe community that is committed to environmentally friendly practices," said Mark Svozil, vice president and general manager, Commercial Landscape Services (CLS). "We believe our landscape management practices contributed to the community's environmental goals while maintaining Davey's commitment to providing the best client experience through beautiful landscape work."
To earn the award, a dedicated crew from Davey CLS worked on site during early morning hours in order to limit disruptions to residents and visitors. That crew also utilized battery-powered equipment for all mowing, trimming and pruning to reduce noise levels while maintaining the property's sustainability goals.
Babcock Ranch is located on a nature preserve and the developer sought to reduce the environmental impact by selecting native plant species and protecting important ecological site features, including wetlands and forests. The community's landscaping guidelines limit turf coverage to 30 percent and require the use of native, low-impact trees and shrubs for 75 percent of their landscaping.
NALP represents an industry that employs nearly 1 million landscape, lawn care, irrigation and tree care professionals who create and maintain healthy green spaces for the benefit of society and the environment.
The Davey Tree Expert Company provides research-driven tree services, grounds maintenance and environmental solutions for residential, utility, commercial and environmental partners across North America. As one of the largest employee-owned companies in the U.S., Davey has been dedicated to creating and delivering sustainable solutions for 140 years. Become part of the Davey legacy and apply today.