Posted: January 16, 2019
Kent, Ohio – The Davey Tree Expert Company is proud to announce the appointment of Manuel Nassar to technical advisor within the Davey Institute.
In his new role, Nassar will primarily support Davey's Commercial Landscape Services (CLS) operations and other service lines as needed. He will be based in Ft. Lauderdale, Florida, with responsibilities covering the Southeast, Texas and California regions.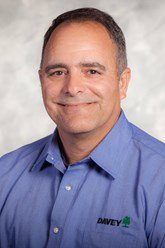 "Manny's extensive background in the landscape and horticultural industry allows him to see the practical challenges the field offices experience on a daily basis," said A.D. Ali, manager of technical services, Davey Institute. "His depth of experience and knowledge will be a tremendous asset to the CLS service line and its clients."
Nassar began his career with Davey in 2004 in Orlando, Florida, as an account manager for Davey's Celebration CLS territory. He became the assistant branch manager for the Southeast Florida CLS territory in Fort Lauderdale, Florida, in 2014 and was promoted to branch manager in 2018.
Nassar's 30-plus years of experience with Davey, along with previous landscape management companies, includes the development of agronomic programs for lawn care, trees, shrubs, tropical plants and integrated pest management in Ohio and Florida.
He is an International Society of Arboriculture Certified Arborist®, a certified pest control operator in lawn and ornamental plant care and a 2009 graduate of the Davey Institute of Grounds Management.
With nearly 9,500 employees throughout North America, The Davey Tree Expert Company provides solutions for residential, utility, commercial and government clients. Rooted in research, the company's vision is to achieve balance among people, progress and the environment. Tree experts since 1880, Davey provides diversified tree services, grounds maintenance and environmental services. Celebrating 40 years of employee ownership, Davey is one of the largest employee-owned companies in the U.S. and is headquartered in Kent, Ohio. Want to join us? Discover your Davey career, and apply today.