In this Family Handyman article, Lou Meyer, business developer for Davey's mid-Atlantic region, talks about why you should prune your trees in the winter.  
Posted: November 18, 2022
Many people are surprised to learn winter is a good time to prune bare trees — weather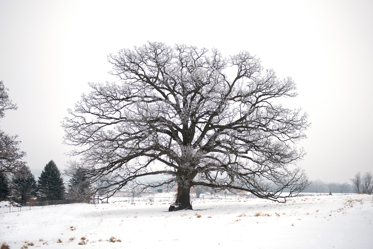 permitting, of course. 
I pruned my own trees as long as I could until I realized that, even on a ladder, I couldn't quite reach the one branch I really wanted to cut off. Following the age-old wisdom of better safe than sorry, I hired an arborist the next time my trees needed to be pruned. At his suggestion, we waited until winter to do most of it. 
There are several reasons why you should trim bare trees in winter. 
Winter pruning reduces the likelihood of the tree becoming infected with a disease like oak wilt.  
"Winter pruning is preferred primarily because airborne pathogens, bacteria and fungi are far less active during the cold months," says Lou Meyer of the Davey Tree Expert Company. 
To read the rest of Lou's advice, click here.