In this WUNC article, Matt Betz from Davey's Charlotte office shares information about the causes of zombie trees.
Posted: October 27, 2023
The scariest thing in yards this Halloween may not be trick-or-treaters, but "zombie trees."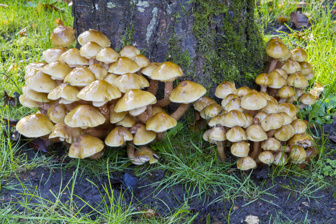 These trees aren't dead, but they are damaged in ways that can kill the tree, or cause its decline. Arborist Matt Betz, the assistant district manager of the Davey Tree Expert Company in Charlotte, said the term can describe trees with issues ranging from limb damage to internal rot.
"A lot of times you can have trees, they've gotten twisted around in hurricanes, or they have stress cracks or large dead limbs up in the canopy," Betz said. "They don't look like they're an issue until something happens. They're extremely hazardous trees, but to the layman, you don't know that they're hazardous."
To read the rest of Matt's interview, click here.
For more information, contact the Charlotte Davey office.